Get Your Fashion Thinking Cap On!
The Fashion 360 Conference is Sept. 22 from 10 a.m.-6 p.m. at the District Architecture Conference Center, 421 7th St. NW. The conference is about informing others who are in or interested in fashion, beauty, marketing, media and the entertainment industry. It is a great opportunity to network with those in the industry.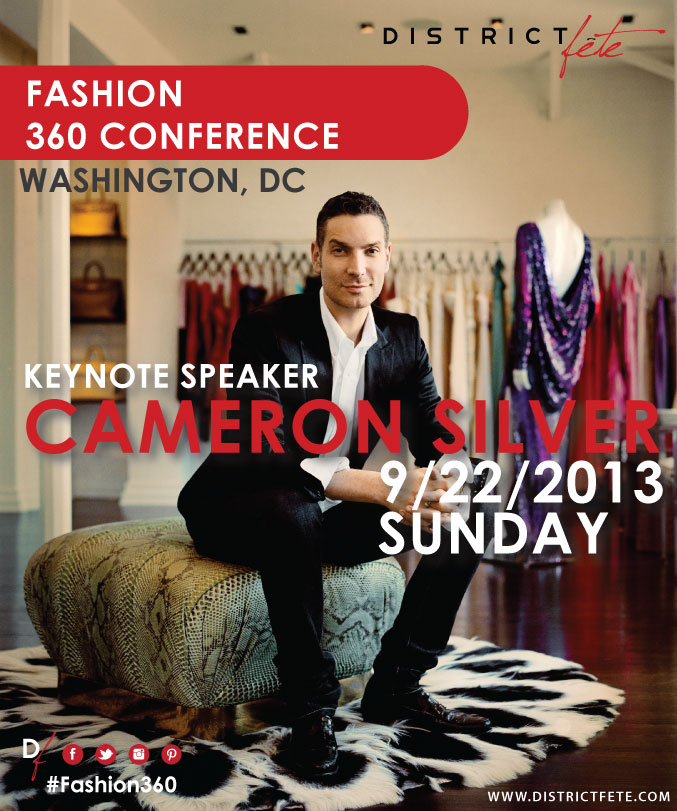 Cameron Silver (above) is the keynote speaker. Some of you may know him from his hit show Dukes of Melrose on Bravo. His show is all about his store, Decades, which has the best of the best vintage clothing. He has styled some of the A list celebs you see walking the red carpets.
Motivational speaker Lindsey Mask is the founder and executive director of Ladies America. Started in 2006, the group empowers women to succeed. Their motto is "Women Helping Women." Its "Women Leading the Future" is an mentor program that educates women in technology, advocacy and business. It began in D.C. and has since expanded to New York City.
Schedule
10 a.m. — Welcome reception and breakfast
10:30 a.m. — Welcome and opening remarks
10:40 a.m. — Motivational speaker: Lindsey Mask
11 a.m. — Break
11:05 a.m. — Business of Blogging breakout session (The panel will discuss how to keep your originality while expanding your reach and providing more engaging content for your readers. It delves into the various sources you can use to collaborate, book deals and manage your blog as a business.) Panelists include Makeda Saggau-Sackey of Glamazon Diaries, Nicole Giordano of StartUp Fashion, Erin Bailey of Scandalous Beauty and Lianne Farbes of The Makeup Girl.
11:05 a.m. — Business of Beauty breakout session (The panel will discuss the latest beauty trends and how to predict trends, how to amplify the services you offer as a beauty provider, skin care, how to overcome the difficulties of freelance work, how to work with major brands and celebrity clients, and what consumers are truly looking for in beauty experts.) Panelists include Kara Manos of Politics of Pretty, Tim Coburn of Tim Coburn Photography, Aleah Rae Dorsey of ShapeUp Your Makeup and Ada Polla of Alchimie-Forever.
11:05 a.m. — Business of Fashion Design breakout sSession (This workshop looks at ways to increase foot traffic to your store front, pop-up shops, investors, law, branding, client outreach and business management.) Panelists inlcude Kelechi Kalu of Forever 21, Melissa McGraw of The Fashion Potential, Jason Elias Gonzalez of The Tailored Man, CPA Ebong Eka, Mariessa Terrell of SBC IP Law Group and Uyen Tang of Style Cable.
Noon — Lunch
1 p.m. — Lunch Q&A
1:20 p.m. — Social Media/PR/Marketing panel (This panel looks at the tools needed to turn your marketing efforts into business growth.) Panelists include Gerilyn Manago of Men's Health, Veronika Sonsev of inSparq, publicist Whitney Stringer, Peter Chun of SwaagIt, Dameila Shaw of Destination DC, Kristie Hale of Impulse Design Group and Nova Lorraine of Raine Magazine.
1:20 p.m. — Business of Styling breakout session (This workshop outlines the key aspects of the styling business and how to stay in business with celebrity clients, leading brands and magazines.) Panelists include Cameron Silver of Decades, Joey Wolffer of The StyleLiner, Christopher Hogan of Off The Cuff and Naina Singla of Style'n.
2:20 p.m. — Break
2:40 p.m. — Round table discussions (A chance to have a more in depth conversation with conference panelists.)
3:30 p.m. — Break
3:40 p.m. — Keynote Speaker: Cameron Silver
4:10 p.m. — Networking party